13-May-2021
#AViewFrom Henkel North America: Culver City, CA
Did you know that Henkel North America employs approximately 9,000 employees at nearly 70 sites across the U.S., Canada and Puerto Rico? Collectively, these sites manage three business units: Adhesives Technologies, Beauty Care and Laundry & Home Care.
Our #AViewFrom series will feature select locations, sharing information and facts about our sites across Henkel North America.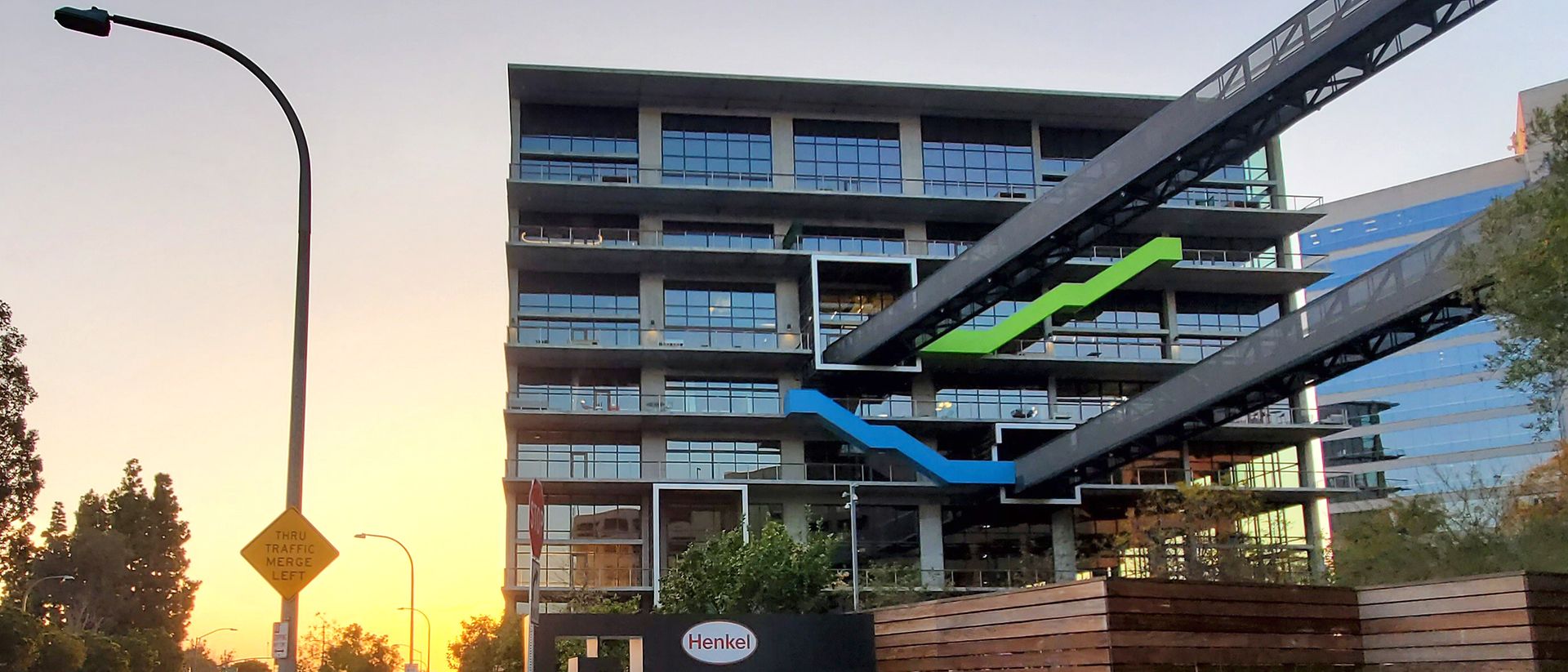 At Henkel's Beauty Care Hair Professional North American headquarters in Culver City, California over 250 employees unite to bring next-generation hair color formulations, styling products and new techniques to salon professionals, stylists and their clients. The building is home to Alterna® Haircare, Joico®, Kenra Professional®, #mydentity®, PRAVANA®, Schwarzkopf Professional® and Sexy Hair® brands along with newly launched brands, Authentic Beauty Concept®, SPARKS® and STMNT™. Here in Culver City, some of the world's most innovative professional hair care products are being developed and deployed for use in salons around the world.
In recent years, the Beauty Care Hair Professional business has grown significantly with multiple acquisitions. In 2017, Henkel successfully closed the acquisition of Zotos International, Inc. with leading hair professional brands Joico that moved to Culver City in 2019 and Zotos Professional® (based in Darien, CT). Henkel also acquired Guadalajara, Mexico based Nattura Laboratories with the brand PRAVANA® who moved to Culver City in 2018.
The Culver City office houses the #AcademyofHair®, a 3,200 square foot state-of-the-art multi-branded learning center, open to stylists and haircare professionals. The #AcademyofHair space is designed for hairdressers and stylists to test the latest innovations from Henkel Beauty Care Hair Professional brands, as well as improve their own education and skills. The office also includes test salons and digital studio/trend labs designed specifically to accommodate large-and-small scale video and photo shoots and live broadcasts.
We view our Culver City office as not just a place to work, but a community where people go to find purpose in their work. While the space is one-of-a-kind, it's the people who make it fun and inspiring.
Stefan Mund, Head of Henkel Beauty Care Hair Professional North America
IN THE COMMUNITY:
Culver City supports a variety of charitable organizations including City of Hope, Meals on Wheels, Beauty Bus Foundation, Safe Place for Youth, and the Rapunzel Project. They also give back to the community through local clean-up efforts, including partnering with Heal the Bay, a nonprofit dedicated to making the coastal waters and watersheds of Greater Los Angeles safe, healthy and clean.
To support the hard-hit hair professional industry due to the pandemic, in 2020 Henkel Beauty Care Hair Professional launched a number of community-driven programs and initiatives. Examples of these efforts include a donation of over 30,000 face masks to varied organizations, establishing Help Your Salon affiliate eCommerce platform, the global fundraising and world-record-breaking event "Hairdressers United", financial and product donations to support salon owners and the Professional Beauty Association (PBA) COVID-19 Relief Fund, and most recently the Beauty Care United program, to support salon owners with their re-openings.