Story
Schwarzkopf extends portfolio with focus on diversity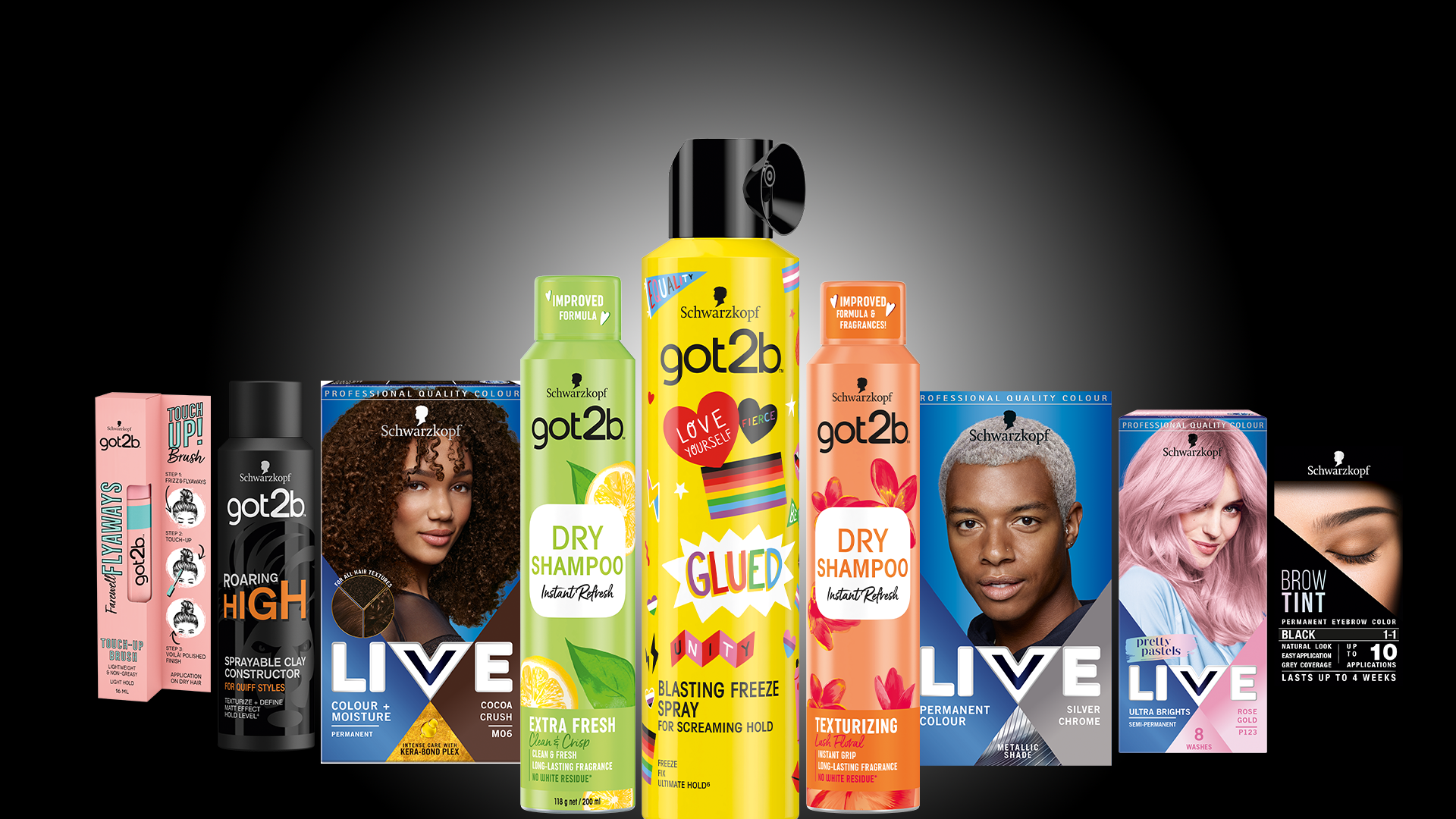 Schwarzkopf's retail business is introducing innovative products and formulas to meet the diverse needs and choices of its consumers and to attract new audiences to the brand. The 2020 portfolio is designed to drive growth and brand loyalty.
Colour for everyone
With a focus on diversity and inclusion, the 2020 range got off to a roaring start with a new campaign from LIVE Colour. #GenerationColour is an inclusive campaign that advocates that experimenting and playing with colour can make you feel free, increase your confidence and creativity. Instead of restricting its lookbook to traditional models, Schwarzkopf LIVE has joined forces with six influencers who span a diverse range of backgrounds, ages and looks to show consumers that whoever you are, Schwarzkopf LIVE has the tools to help you be the best version of yourself.
Supporting LGBT+ young people
Got2b Glued Blasting Freeze spray has launched in the UK with a limited-edition Pride design. Supporting got2b's #MeByMe campaign, which champions empowerment, individuality and self-expression, artist Ruby Taylor designed the special spray can with fun and colourful illustrations. A donation from sales of the limited-edition can will go to LGBT+ youth charity, Just Like Us, which supports young people in schools to feel empowered and safe, and promotes equality and inclusion.
Innovation for young men
LIVE for Men is the first UK brand to cater for younger men who want to have fun with hair colour, offering vibrant colours like pink, purple and bright blue, as well as a rich dark brown, two blonds and a dark blue. The range is exclusively in Boots.
Colour for women with dark textured, curly hair
It's a well-known fact that textured hair is delicate hair, prone to drying out and feeling coarse. The launch of LIVE Colour + Moisture means that every hair type and texture can now benefit from Schwarzkopf's popular colour-at-home brand. Available in brown and red shades, this new range provides a pre-colour serum to maintain moisture in the hair while colour is applied; and a post-colour conditioner packed with Keratin Plex strengtheners. Together, the system protects the hair from premature fading and damage.
Dry shampoo gets a vegan boost
The entire portfolio of got2b Instant Refresh dry shampoo has been relaunched. With more than 50% of British women interested in vegan beauty, the range has been reformulated, repackaged and vegan to meet the demands of consumers. With a global focus on sustainability, dry shampoo has a role to play by helping consumers save water. The range includes Extra Volume, Extra Fresh and Texturing with coconut citrus and tropical scents.
Other product innovations
In addition to these five headline-grabbing innovations, Henkel's retail beauty care team has also introduced:
got2b Roaring High, comprising two new products for quiff styles: Texturizing Powder to Cream uses a perfume-free and weightless formula to create volume. Sprayable Clay Constructor creates instant texture and definition with a simply spray.
got2b Farewell Flyaways is a mascara-sized tube with a touch-up brush that puts an end to misbehaving flyaway strands of hair. Perfect for Instagram selfies!
Semi-permanent colour range LIVE Pretty Pastels, comes in four new shades that last for up to eight washes: Lilac Crush, Denim Steel, Rose Gold and Mint Pearl.
Permanent colour range Color Expert is all about looking after your hair and now hyaluronic acid has been added to Schwarzkopf's OMEGAPLEX anti-breakage technology to add even more moisture to coloured hair.  
Schwarzkopf Brow Tint is the brand's first permanent brow colour. Designed to enhance the eyebrow's natural look, it has the same formula used in salons and lasts up to four weeks. Ranging from Dark Blonde to Black, the kit has around ten applications, meaning it can last up to a year.